Automation & the Booming Demand for Convenience Foods
Global populations are surging [1] and so are the number of people entering the workforce, worldwide spending on food, and disposable incomes [2]. Nuclear families with two working members have little time for cooking [3]. Globalization has made western lifestyles and exotic cuisines more acceptable [1].
While these factors close ranks to fuel the demand for convenience foods, expanding production takes time. For safety standards in the food industry are steep [4], margins are wafer thin [5], and recalls are the worst profitability killers [6]. Plus, food manufacturing is viable only with mass production.
Automation helps achieve the twin objectives of mass production-packaging while maintaining stringent hygiene standards. Traditionally labour intensive, the industry adopted automation with delay partly because of the inherent variations in raw material shape, size, and quality aspects [7].
But the need to automate always existed with most manual operations in the food industry being repetitive, fast, and monotonous. This led to deficient quality control, low motivation, and high occurrence of accidents, which escalated expenses [7].
Convenience foods (Ready to Eat [RTE] and Ready to Heat / Cook [RTH/C]) have been popular in the developed world for long [8]. Their inroads in the emerging markets such as India is recent. Statista expects the global convenience foods industry at $588.9 billion in 2022 to expand at 5.64% till 2026 [9].
Packaging is crucial for convenience foods that need to be edible across their shelf lives. RTE packaging relies on retort pouches made of composite material that don't require brine addition. RTH/C foods use packaging materials based on specific requirements [10].
Excessive convenience food intake may prove bad for health [8]. Plus, they are more expensive than freshly prepared meals [11]. In the near future, this will further expand the use of natural and organic ingredients [12].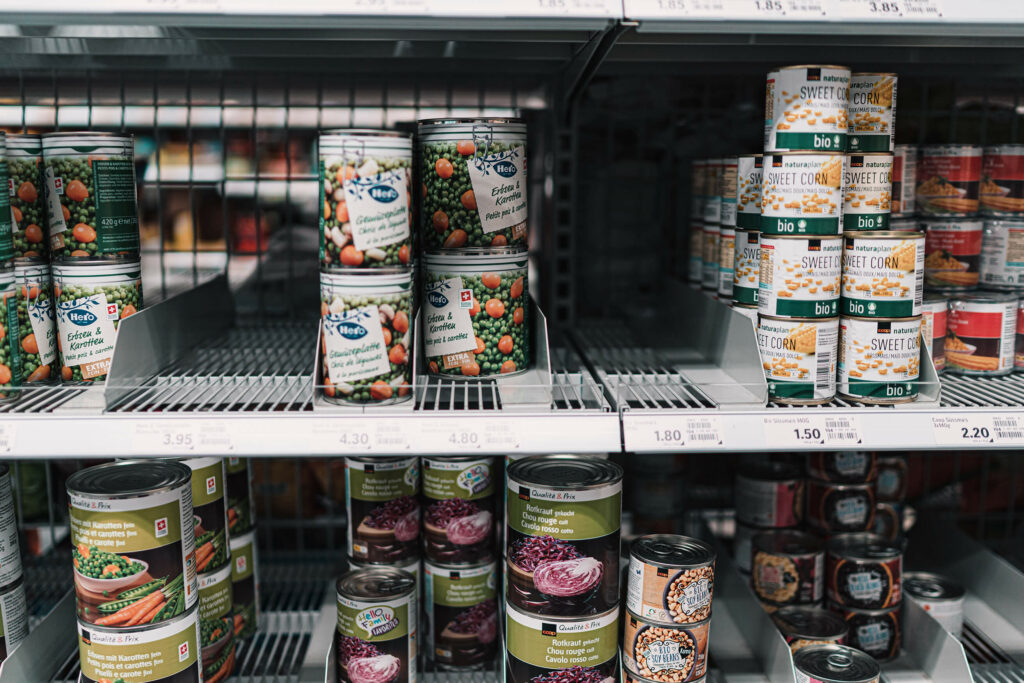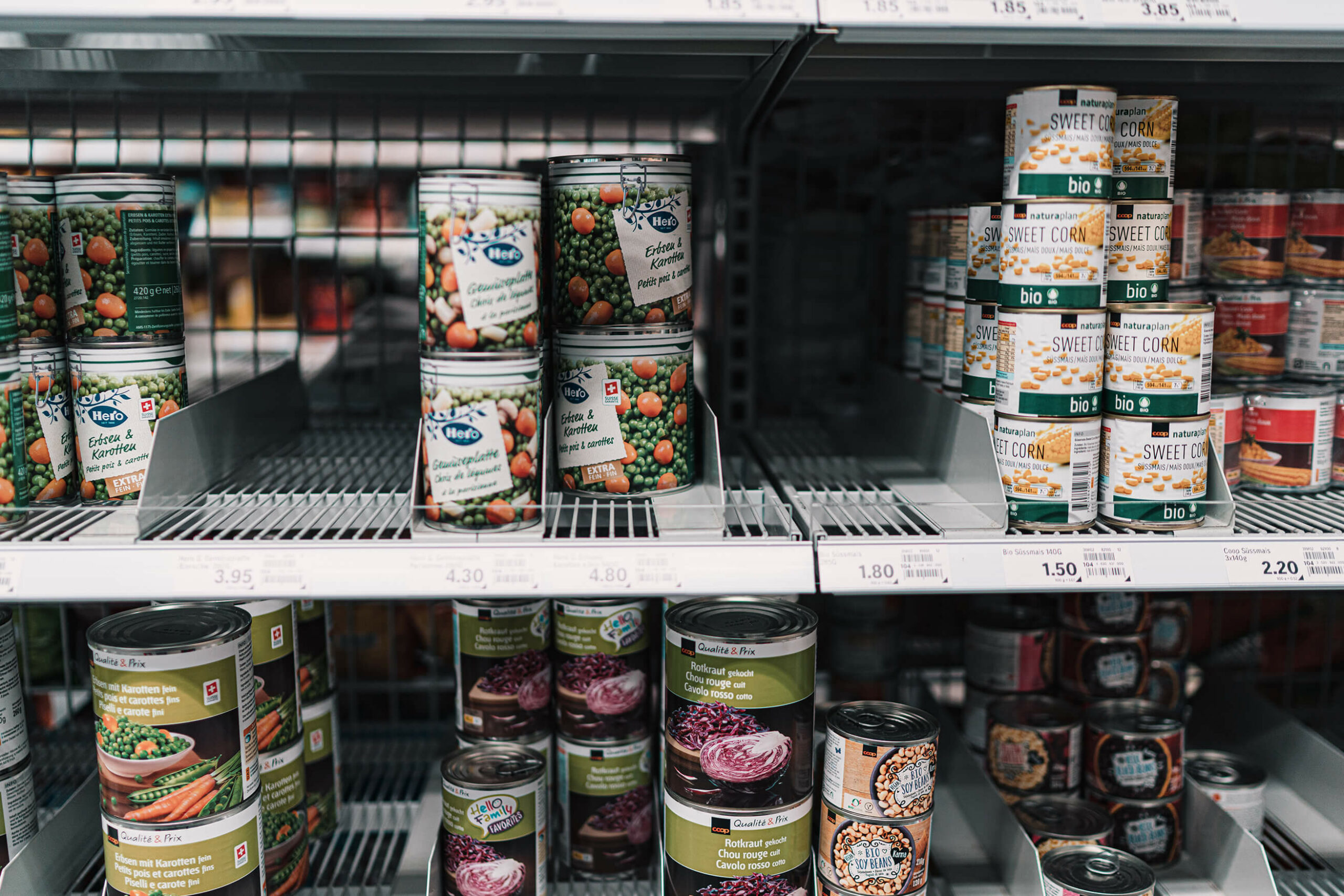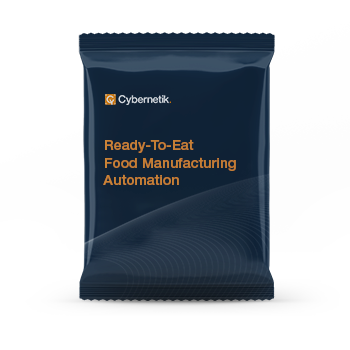 Discover our turnkey Ready-to-Eat Food Manufacturing Automation Solutions
Cybernetik has delivered customized automation and equipment solutions for the Ready-to-Eat food industry, enabling rapid cooking with flavour and nutrient retention, customizability, hygiene, and safety.
Pros, Cons & the Global Convenience Food Market
Statista places the 2022 revenues for the global convenience food market at $588.9 billion [9]. Data Bridge forecasts the same for the convenience and frozen food market at $344.76 billion by 2029 [13]. Here are the market drivers:
Busy urban lifestyles of working population [2] leaves little time for cooking. 
Increasing number of nuclear families [3].
Many young professionals live alone [3].
Rising per capita disposable incomes and spending on prepared foodstuffs [2].
Greater acceptance of convenience foods [13].
More investments in cold chain development makes frozen foods safer and more acceptable [13].
Retail industry digitization simplifies the ordering process [13].
Advances in packaging [4] makes convenience foods safer.
Natural and organic ingredients makes convenience [9] foods healthier.
Here is what makes convenience foods convenient:
Easily and quickly prepared, procured, consumed, and cleaned with minimal leftovers [8].
No planning necessary to buy or store ingredients [11]. 
Shelf stable RTE/H foods last longer than freshly cooked food even without refrigeration [8].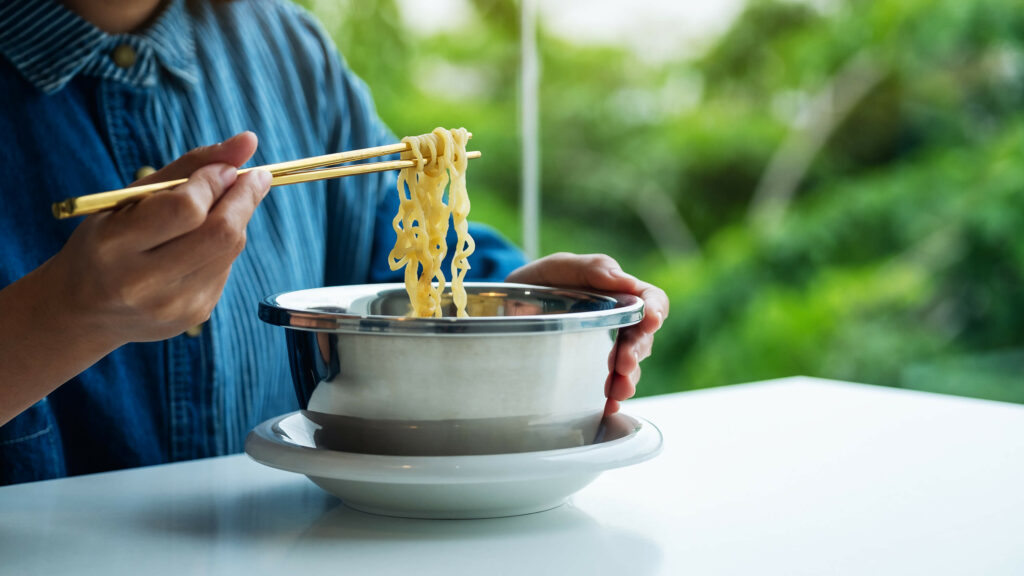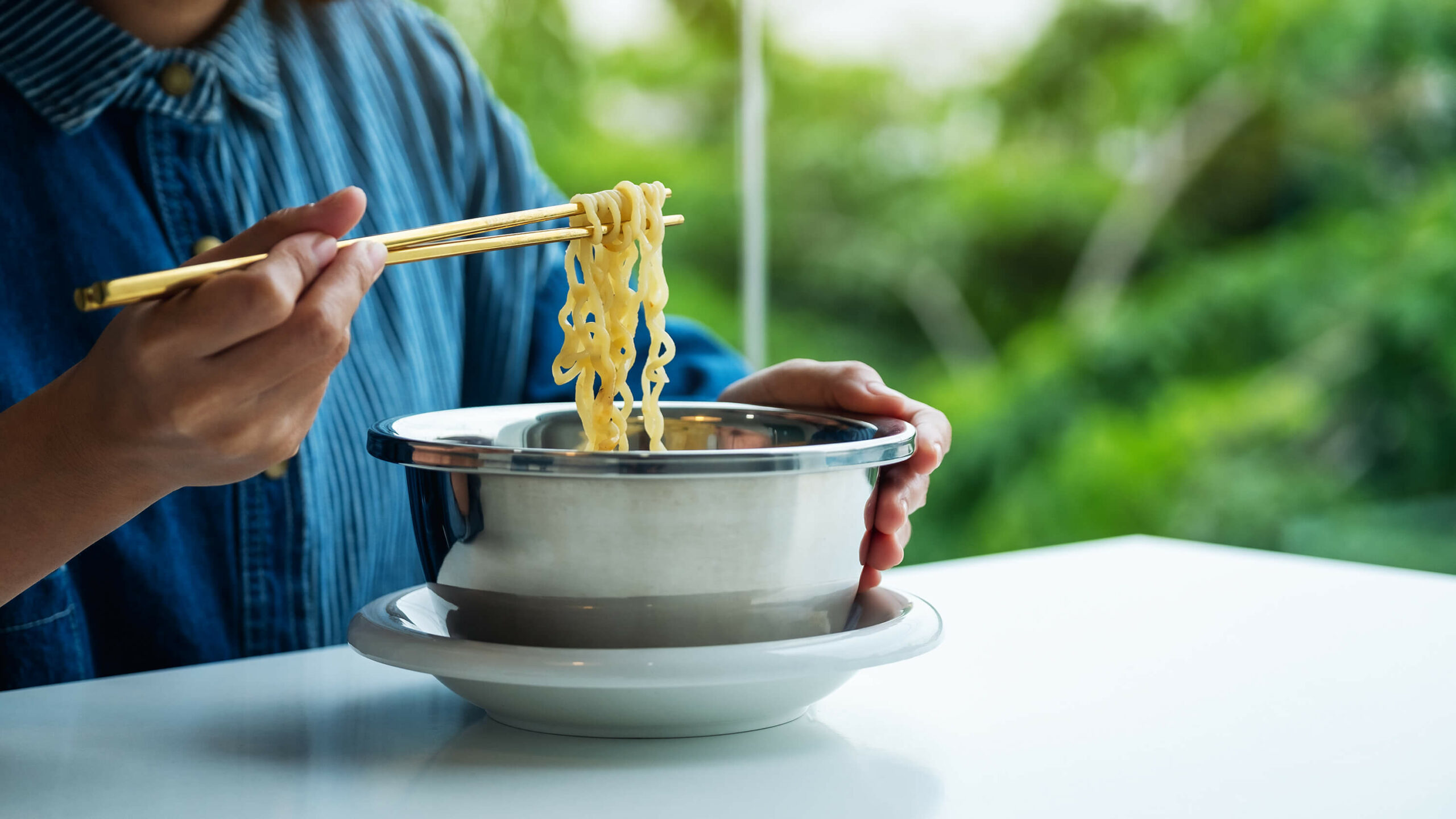 On the downside, convenient foods:
Contain larger amounts of salts, sugars, saturated fats, and triglycerides [8].
Could have lost necessary nutrients during processing [8].
May be more expensive than freshly made foods [11].
Are inherently less fresh than homemade preparations [11].
Related to these limitations are the roadblocks in their growth:
Health concerns [12] in view of the larger amounts of salt and sugar.
Increasingly stringent regulations [4] will filter out many producers.
Deficient infrastructure for storage [4] will limit the quantities available for sale.
As we move ahead, convenience foods will include more natural and organic ingredients. Manufacturers will also try to limit the amount of mentioned ingredients that prove detrimental when consumed in large quantities.
Types of Convenience Foods
Also called tertiary foods, convenience foods are processed foodstuffs that are easy to acquire, consume, and clean-up. This definition excludes raw edible fruits and vegetables. Based on whether they need to be prepared before consuming:
Ready to Eat (RTE) foods require no preparation and are consumed directly:

Chips and bakery products [2].
Animal and meat products viz. cheese and precooked chicken [14], meats, ham, sausages [8].
Dry foods such as cereals, nut mixes, crackers, candy [14].
Canned foods such as fish, meats [14], pasta, soups [8].
Fast food and restaurant food, the former being served faster.
Beverages such as juices, soft drinks, milk [8].
Jams, pickles, marmalades, sauces.
Ready to Heat / Cook (RTH/C) require some preparation:

Curry mix, snacks mix, dessert mix [2], cake mix [8].
Pasta variants such as macaroni, noodles, vermicelli [8].
Pasteurized and packaged milk.
RTE and RTH/C foods can both be either frozen or shelf stable, which is another way to classify them.
Popular convenience preparations in India include [2]:
Paneer
Rajma Masala
Chana Masala
Pav Bhaji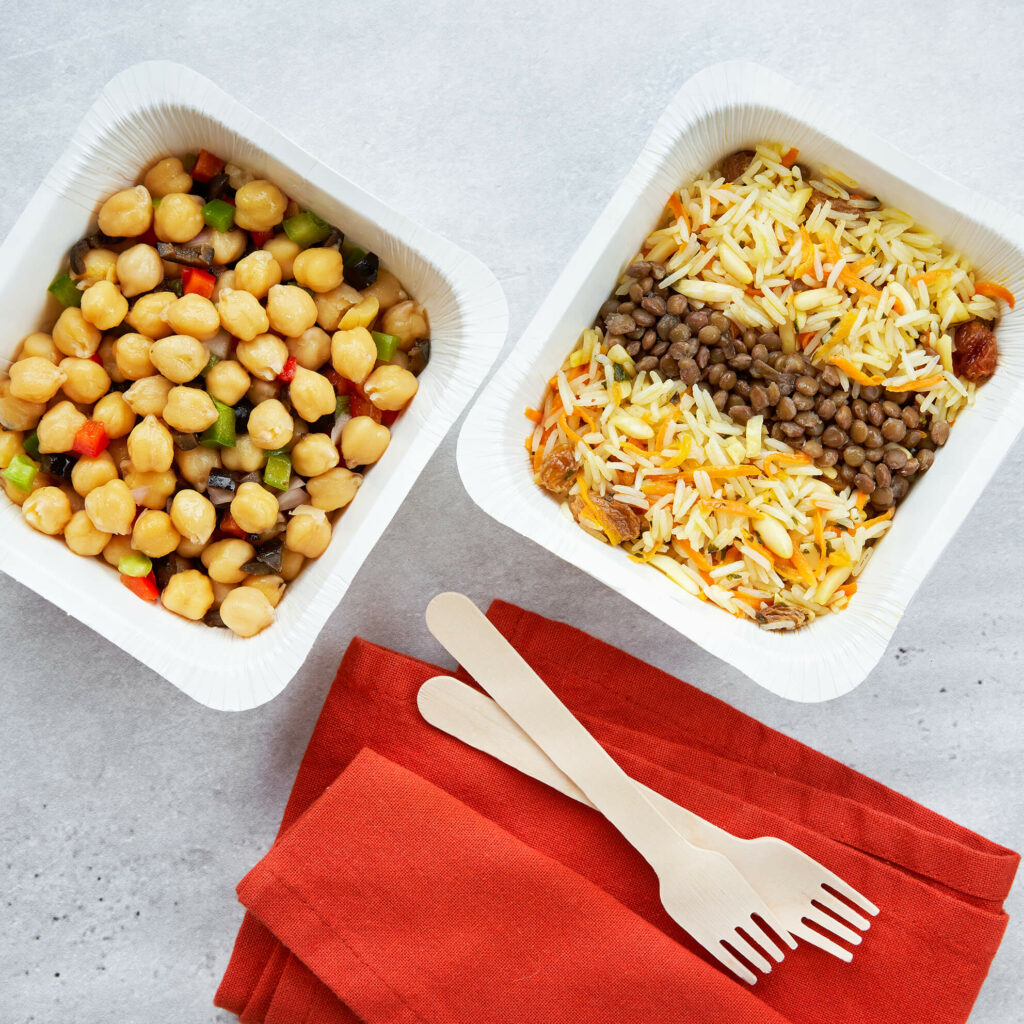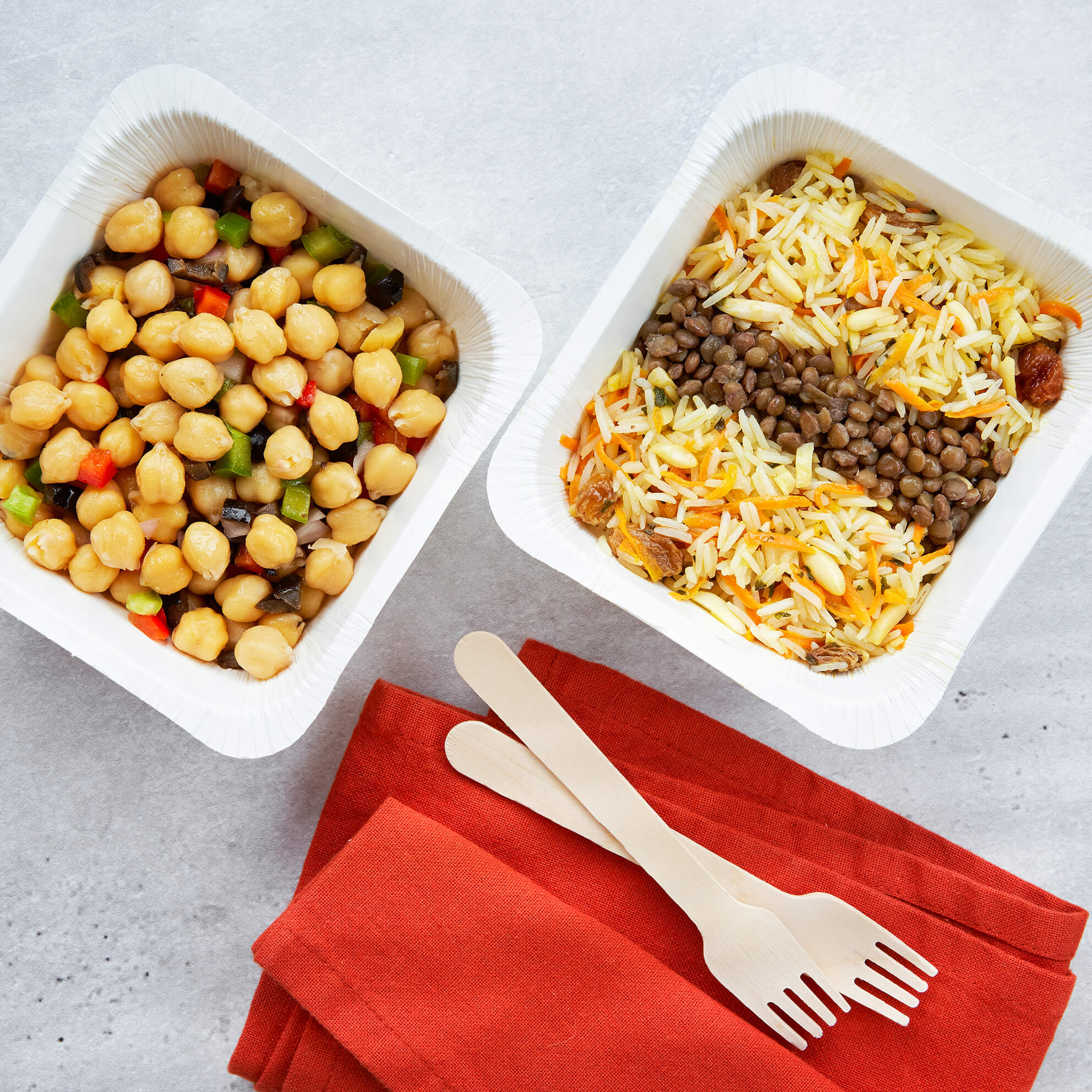 Packaging Convenience Foods
Packaging is crucial for RTE/H foods to be edible over their shelf lives. Microbes, food chemical interactions that attract microbes, and physical damage due to improper storage and handling are the major causes of food spoilage [15]. Dehydration, refrigeration-freezing, and canning are the three counter methods generally employed [16].
Material and procedures for packaging depend on [10]:
Required Shelf Life.
Product Shape & Form: Smooth, regular, irregular, or with sharp edges.
Food Type & Ingredients: Proteins, moisture, flavour, fats etc.
Product Texture: Elastic, brittle, crisp, sticky etc.
Biological & Abiotic Spoilage Factors: Microbes and chemical reactions respectively.
Processing Conditions: Duration and temperature.
Ambient Conditions: Humidity, light, temperature etc.
Whether Retort Processed or Not.


Composite Material
Features
Applications



Foil (9 mm) – Adhesive – Paper – Composite Micro Wax – Tissue (20 gm per m2)
Low water vapour transmission rate (WVTR)
Biscuit overwrap



Foil (9 mm) – Adhesive – Paper – Extruded Polyethylene
- Blocks moisture
- Machine friendly
Soup etc. packing in fin sealed sachets or pouches



Foil (9 mm) – Adhesive – Paper with Heat Blocking Vinyl Resin Coating
- Blocks moisture
- Machine friendly
Confectionary overwrap



Polyethylene (1 inch) – Foil (9 mm) – Adhesive – Paper
Heat seals as wax bleeds via tissue
Confectionary overwrap



Foil
- Machine friendly
- Good WVTR
- Confectionary overwrap
- Biscuit overwrap



Cellophane layer – Adhesive layer – Pliofilm layer
- Transparent
- Blocks gas
Nuts in inert gas packages



Cellophane layer – Wad layer – Cellophane layer
- Sandwich printing
- Good WVTR
- Machine friendly
Hygroscopic material in pouches / bags



Cellophane – Polyethylene
- Trapped printing
- Blocks gas
Chocolates



Polyester layer – Adhesive layer – Foil layer – Polyethylene layer
- Retains aroma
- Blocks gas
- Rigid
- Heat resistant
Cans – process-able and flexible



Polyester Film – Polyethylene (saran coated)
- Seals positively
- High strength
Food pouches (vacuumed)
Table 1: Composite Materials for Packaging RTE Foods [10]
Retort Processed RTE Foods: Such as rice, biryani, upma, dal fry, and palak paneer are retort processed [10] i.e. subjected to sterilizing heat treatment after packaging inside hermetically sealed, multilayer pouches [17]. Gas-flushing removes oxygen from the headspace of the pouch before packaging [10].
Also called Autoclaves or Sterilizers, retorts use steam or water to heat the pouches to between 1100C (2300F) and 1350C (2750F) [18] at high pressure and hold them there for up to 30 min [19]. Clostridium botulinum is a particularly notorious food poisoning microbe for it can withstand extreme heat [20].
Retort pouch material is:
Flexible
Tough
Machine friendly
Heat resistant to be undamaged at retort temperatures of up to 1350C
Puncture resistant
Heat sealable
Among the popular materials used for flat retort pouches in India is PET – Aluminium Foil – PP 3-ply Laminate with 12, 12, and 75 micron thickness of the respective materials. Stand up pouches use laminate with 12, 9, 15, and 60 microns respectively of PET, aluminium foil, OPA, and PP [10].
Other materials suited for retort pouches to store moisture-rich Indian foods include [10]:
Ethylene Vinyl Alcohol
Nylon
Polyvinyledene Chloride (PVDC)
Silica-coated Nylon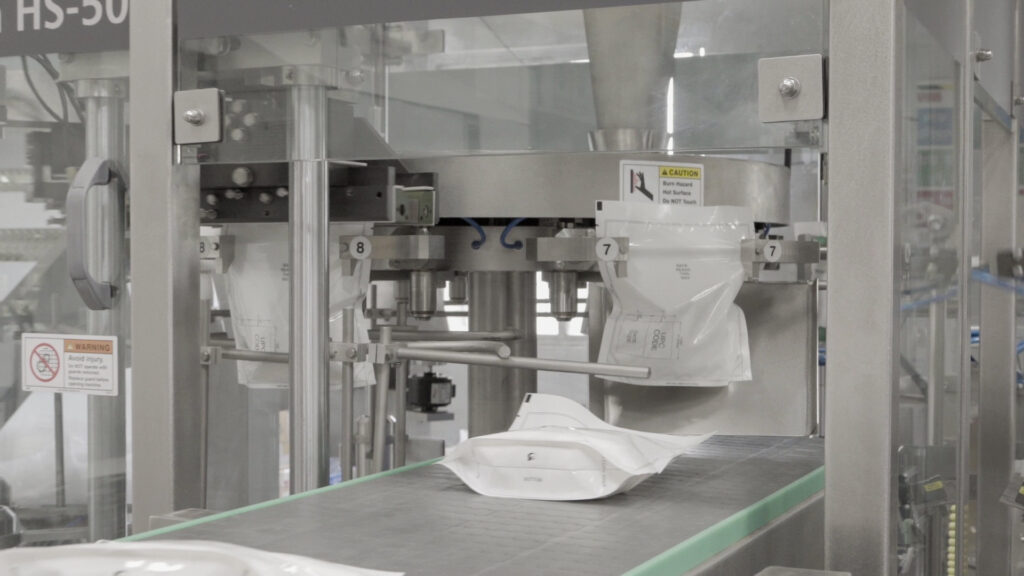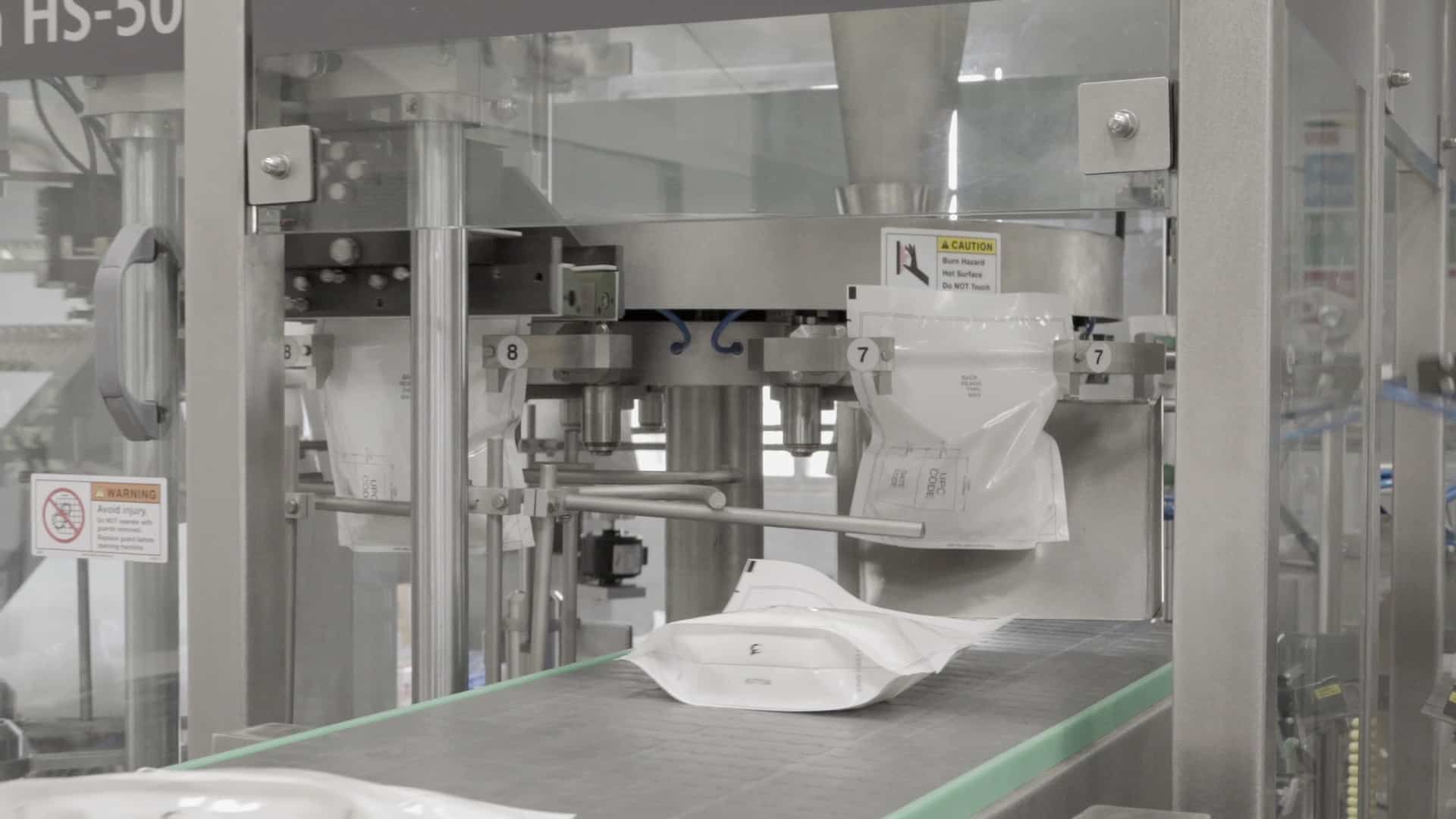 Non Retort Processed RTE Foods: Idli, pizza, pav bhaji, and dosas are not retort processed on account of their extremely short shelf lives. Packaging material for these needs to [10]:
Withstand grease and odour.
Permeate trace amounts of oxygen and water vapour only.
Possess excellent physical strength.
Materials used for packaging these foods are [10]:
Bag Pouches / Plastic Film
Plastic Containers made via Injection Moulding
Paperboard Cartons
RTC Foods have the following packaging requirements [10]:
Poor Gas (Oxygen, Air, & Nitrogen) Permeability prevents:

Food oxidation that causes flavour loss, rancidity, and discoloration.
Loss of volatile essential oils and flavours to retain taste and aroma.
Loss of nitrogen to maintain an inactive ambience.

Minimal Light Permeability ensures that light does not accelerate the oxidation of fats and flavours. Aluminium foils, pigmented plastics, cans, and metallised polyester block light.
Inert to Grease andparticularly for the innermost layer. Polyester, polypropylene, cellophane, and inomer are good for this, HDPE and LDPE are not.
Appropriate Moisture Vapour Transmission Rate (MVTR)
Poor Gas (Oxygen, Air, & Nitrogen) Permeability prevents:

Food oxidation that causes flavour loss, rancidity, and discoloration.
Loss of volatile essential oils and flavours to retain taste and aroma.
Loss of nitrogen to maintain an inactive ambience.

Minimal Light Permeability ensures that light does not accelerate the oxidation of fats and flavours. Aluminium foils, pigmented plastics, cans, and metallised polyester block light.
Inert to Grease andparticularly for the innermost layer. Polyester, polypropylene, cellophane, and inomer are good for this, HDPE and LDPE are not.
Appropriate Moisture Vapour Transmission Rate (MVTR)
RTC foods can also be classed based on their composition and moisture content:
Sr.
No.
RTC Food Type

Examples

Observations
Packaging Material
1.
Cereal
Based
Dosa, idli, chakli
- Contain 8-10% moisture.
- Lose texture at 12-13% moisture.
Polyolefin pouches, 37-75 micron thick for 3-4 months shelf life.
2.
Fat Heavy
Cakes, jamum, donuts
Turn rancid after reacting with water vapour and oxygen.
- CPP Pouches, 200 grams holding capacity for 2-3 month shelf life.
- HD-LDPE or LDPE films for longer lives.
3.
Pulses or Legume Rich
Khara sev, urad bath, vada, bonda
Packing material needs more moisture resistance than for cereal-based ones.
PP and LDPE impart shelf life of:
- 5-6 months at normal ambiences.
- 1.5-3 months at high relative humidity and temperatures.
4.
Enriched Spice Mixes   
Soups, rasam, bisibele bath, sambhar
 
- Polyamide-core-co-extruded films.
- PET or PE that is either metallized or plain.
- Cellophane / PE.
5.
Food Mixes
Tamarind sauce, orange peel gravy
Innermost packaging layer must:
- Block moisture.
- Not react with flavours and fats.
- Copolymer of acrylic acid and ethylene with a co-extruded HD-LDPE layer as the innermost sheet.
6.
Low Moisture Items
Have: 1-5% moisture.18-20% Equilibrium Relative Humidity (ERH).
- Packaging material needs below 1 gm/m2/day Moisture Vapour Transmission Rate (MVTR) to prevent moisture in-flow.
 
7.
Medium Moisture Items
Sweetmeats, salty-spicy foods with: 6-20% moisture.65% max ERH.
- Shelf life is more important than MVTR as these are prone to microbial spoilage.
 
8.
High Moisture Items
Sauces, cakes, breads, chutneys, pickles, chappatis with:
- 20-60% humidity.
- 85% ERH.
Vulnerable to:
- Microbial spoilage.
- Yeast or mould formations due to condensed moisture.
For:
- Long shelf life: Retort pouches, cans, or aseptic packs after sterilization.
- Short shelf life: LDPE that allows moisture to diffuse out.  
Table 2: Packaging Material for RTC Foods based on Composition & Moisture Content [10]
Being compatible with machines is an important criteria for packaging material because robotic automation is increasingly employed for food packaging. Robots provide flexibility and are compatible with repetitive operations over a range of loads at greater productivity, food safety, and uptime.
Requisites of an Industrial Cooking System
Hygiene is invariably the first. Retaining nutritional value, aroma, and texture are not far behind. Convenience foods become convenient only with a reasonably long shelf life. Then again, the setup has to be safe for factory floor operatives. A system that uses minimal energy and time makes good returns.
Desirable features of an industrial cooking system are:
Hygiene as RTE items are not processed further before eating. This applies partially to RTC items that are only marginally processed (cooked) before eating. Equipment in direct touch with food need a smooth, inert, non-stick surface.
Nutrient Retention as RTE/C foodstuffs can lose some nutritional value over the process.  
Aroma & Texture Preservation / Development for these are important reasons why customers purchase convenience foods.
Energy Efficient so as to utilize least energy. Industrial cooking kettles operate at high pressures of about 45 to 50 psi [21] to lower the required energy.
Uniform Cooking for product homogeneity. Industrial kettles have internal mixers / agitator arms for vertical and horizontal blending. Another tool for uniform cooking is isostatic pressing i.e. applying equal pressure from all directions to denature proteins and eliminate microbes [22].
Industrial Safety practices nip in the bud issues such as downtime, emergency repairs, and possible litigation. 
Ergonomic so as to ensure operator comfort. Buggies that are activated manually for part of their operation have vertically staggered wheels for easy movement.
Automation is an excellent way to fulfil all these necessities.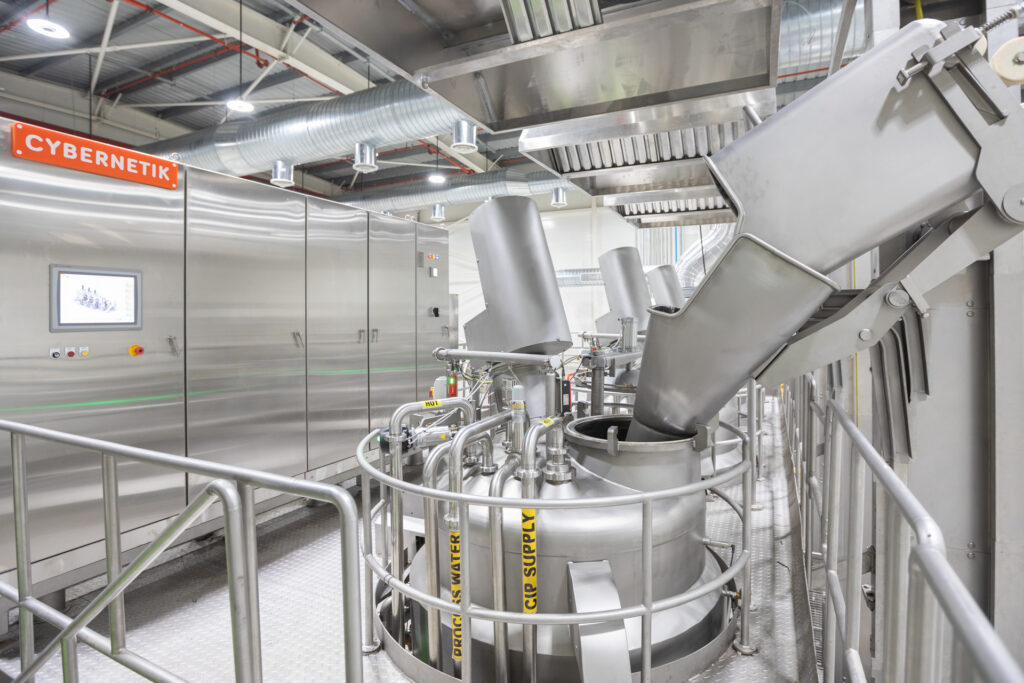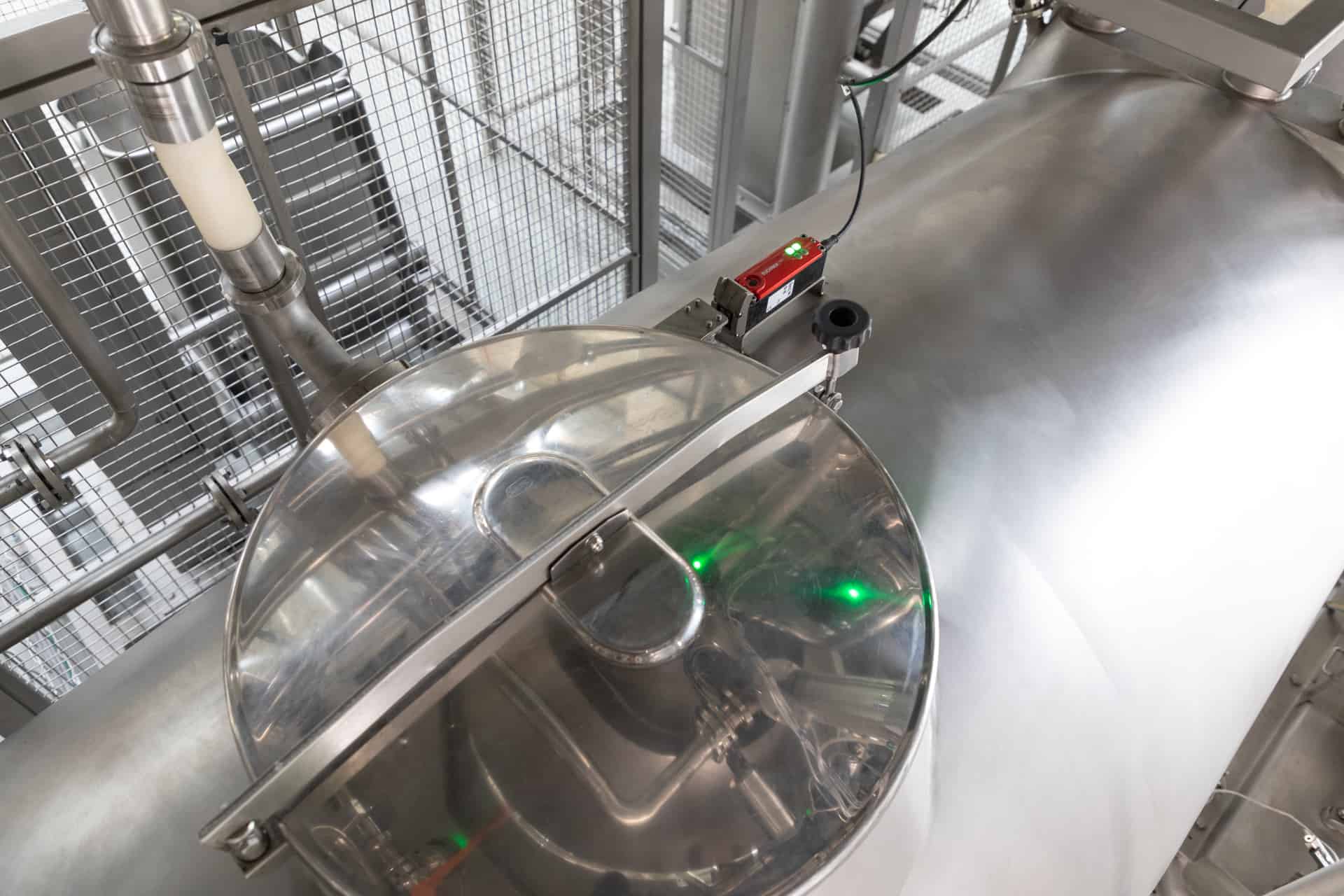 Food Industry Automation
Proper equipment, skilled workforce, exacting quality control measures, and correct management practices are necessary to operate successfully in the food industry where stringent regulatory standards, low margins, tight competition, and seasonal demand spikes are the norm. Modifications in product lines are not infrequent [5].
Food industry has traditionally been labour intensive with repetitive, fast, and monotonous operations lowering quality control, motivation, safety, and profits. Following factors make it tough to automate the food industry [7]:
Non-uniformity of Raw Material shape, size, homogeneity, texture, temperature-sensitivity, and mechanical strength makes it a challenge to design standard devices and processes.
Changes in Agronomic Conditions can alter the chemical and physical features of raw materials.
Product Modifications change process requirements.
Hostile Conditions on the Food Factory Floor viz. wash down, temperature extremes, dust, and vibration require special and costly equipment.
Here is what automation enables for the food industry:
Quality [7] by standardizing the inputs, parameters, and processes while removing human errors [5].
Productivity through proper scheduling of labour use and work flow that facilitates efficient resource use [7]. Traceability or data recording allows technicians gain rich insights into overall improvement while also proactively identifying issues and initiating remedial action.
Profitability via delivering consistent quality and productivity [7] that promote brand loyalty while also minimizing or eliminating recalls.
Standards Compliance becomes simpler with traceability easing the data recording process [5].
Flexibility as reprogramming software and repurposing hardware is simpler than retraining employees when responding to changes [5].
Industrial Safety by freeing or relocating employees from hazardous tasks, and handling repetitive, fast, and monotonous tasks [7].
Efficiency through better resource allocation and minimization of wastes, costs, and machinery footprints [5].
Standardization and flexibility are at the diametrically opposite ends. And yet, automation helps food product makers achieve both!
Cybernetik's Ready to Eat / Heat (RTE/H) System
Cybernetik's RTE/H system delivers rapid cooking with nutrient and flavour retention. In view of the peculiar requirements of Indian cuisine, one device of the system can impart tadka. Recipe selection facilitates the preparation of multiple items.
Highlights:
Rapid, controlled cooking without loss of flavour or nutrients.
Recipe-based raw material inputs with facility to add minor ingredients.
Completion checks without interruption of cooking.
Systems for thorough mixing and preventing burn-on during cooking.
Minimal loss of cooked material during electricity outages.
Quick, efficient cleaning-sanitization with 1000+ litres (provisional figure) of water saving per sanitization cycle.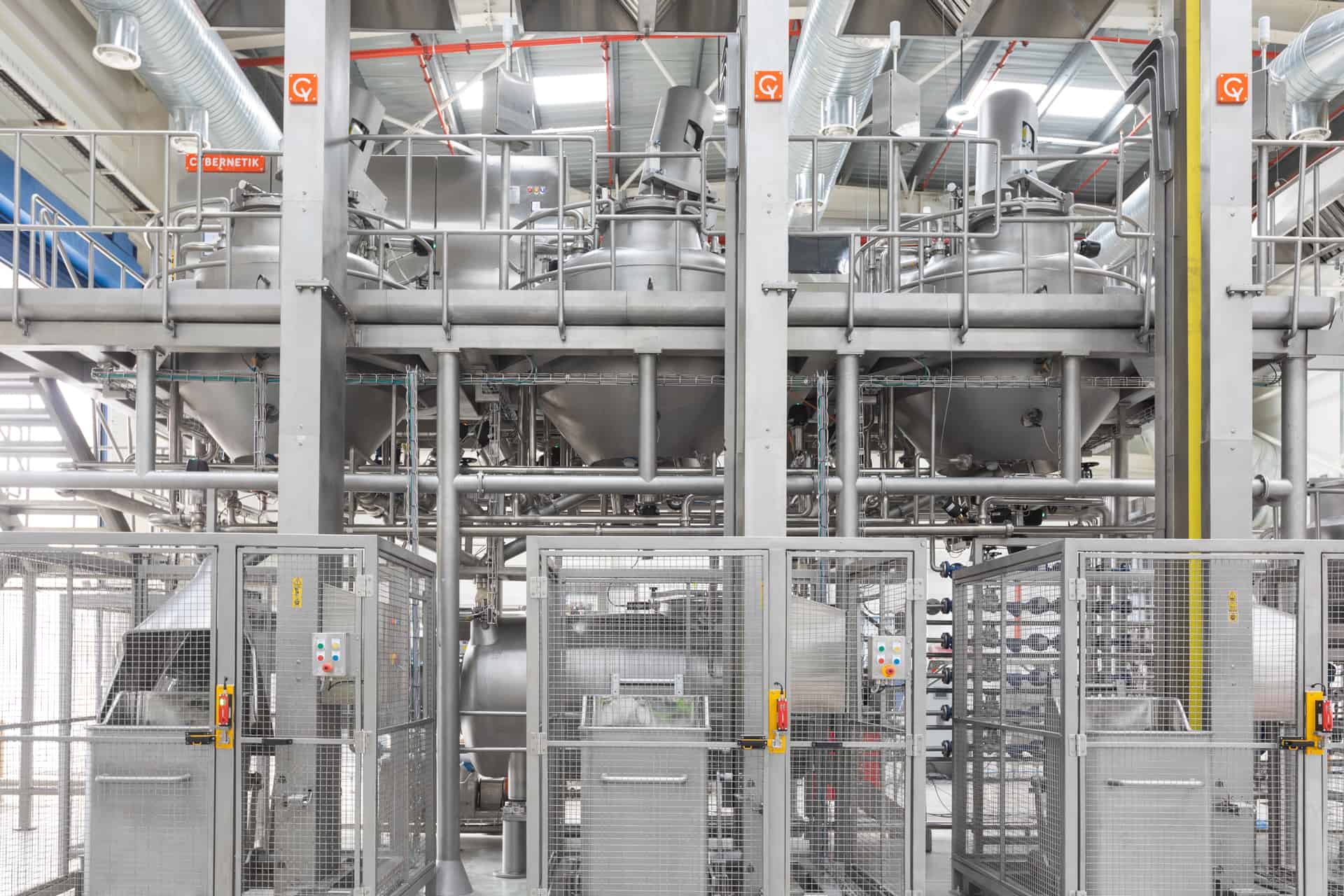 Safety & Hygiene:
Hygienic cGMP design.
Ultra smooth finish for non-stick surfaces. 
Equipment doors locked during operations. 
Moving equipment travels only within set limits. 
Certified welders and professional workmanship.
Complete testing for functionality and safety before dispatch.
Standard RTE/H Solution
Cybernetik's standard RTE/H solution is optimized for quality and productivity through the integration of pouch packing, retort treatment, and secondary and tertiary packaging with the industrial cooking system. The entire system – from loading raw materials in the Buggy to final packaging – requires minimal manual inputs.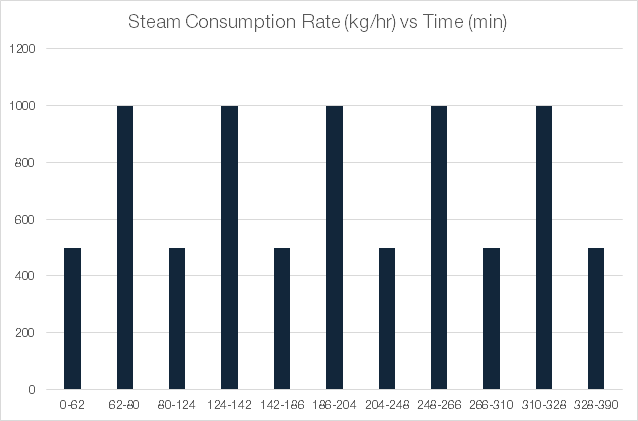 Plot 1: Steam Consumption (kg/hr) by the RTE/H System during a Shift
Cooking Kettles operate alternately with some overlap when both operate simultaneously. CIP System selectively rinses one Cooking Kettle while the other is operational to minimize downtime. If the system is delivering the same product, it is not necessary to rinse the Buffer Tank between batches.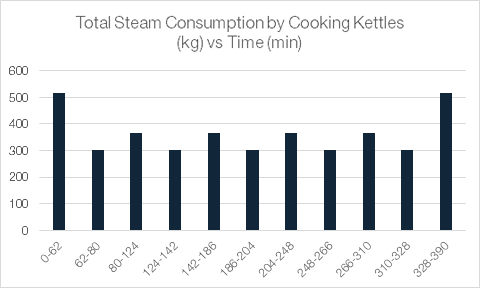 Plot 2: Total Steam Consumption (kg) during a Shift
Steam consumption rate is 500 kg/hr when one kettle is active and doubles to 1000 kg/hr when both operate. Total steam consumption during various durations in the shift is as shown in plot 2.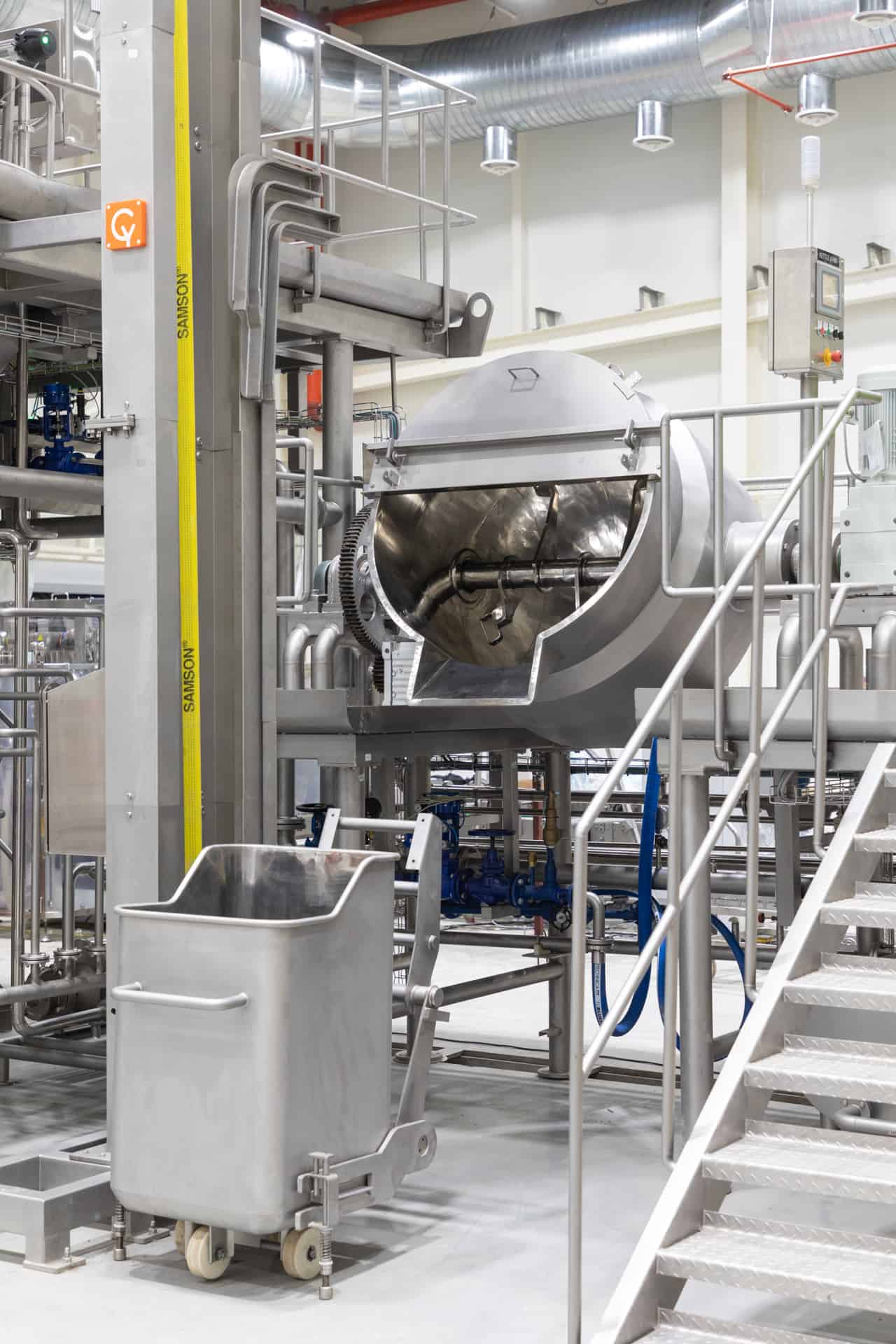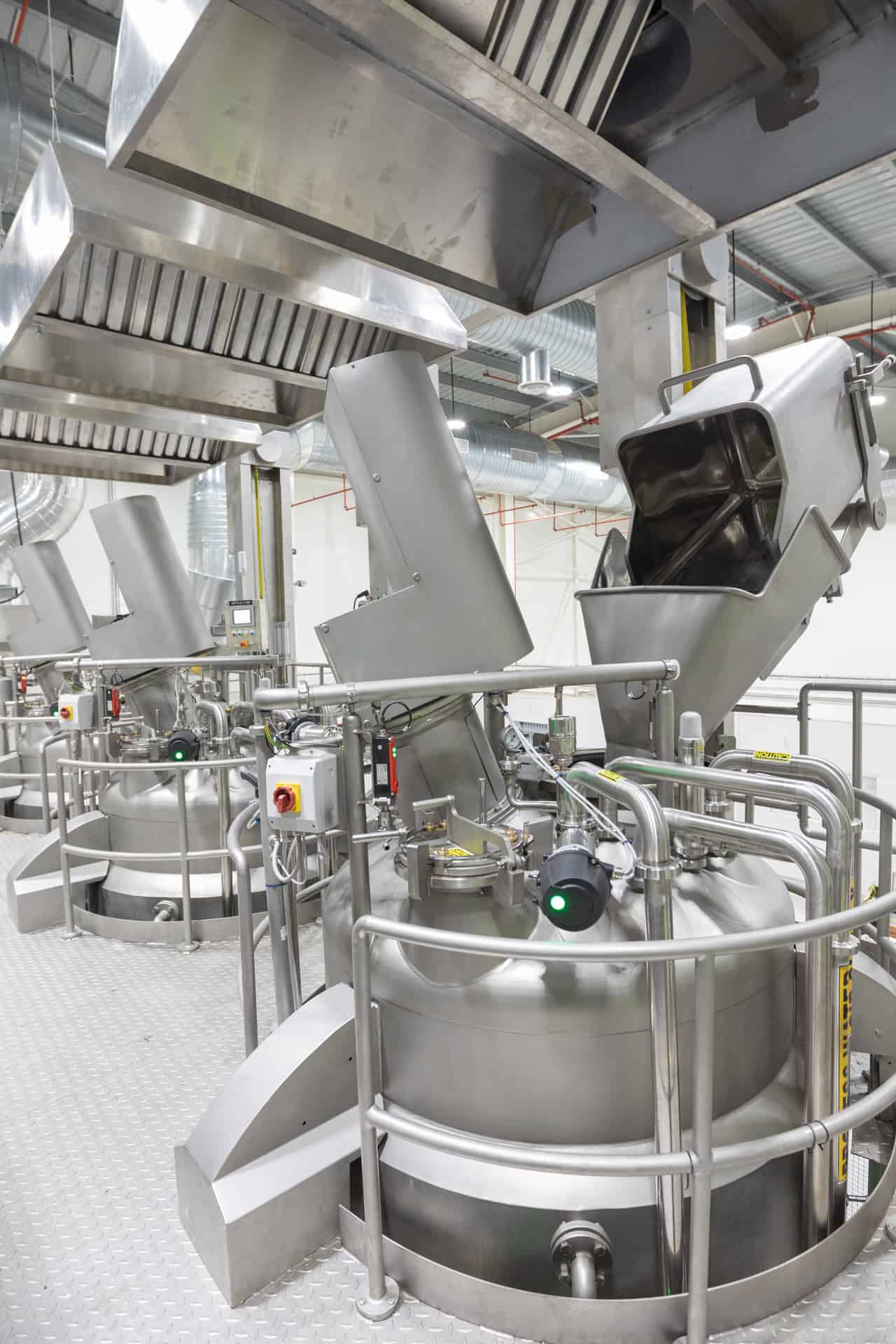 Finally
Growing populations and more importantly working populations will continue to drive the convenience foods market. Health concerns can limit this growth but producers are already moving towards natural and organic ingredients to address this. Automation will remain the best method to mass produce processed foods in compliance with the stringent standards of the industry.
Cybernetik delivers customized RTE/H solutions for hygienic, productive, and efficient production that use minimal water for cleaning. Write to us at [email protected] to know more on how we can automate your food production and processing plant.
---
References
Farah Bader et al. Innovative Food Science & Emerging Technologies. "A Methodology for the Selection of Industrial Robots in Food Handling." August, 2020.
Entrepreneur India. "Ready to Eat Food, . . ."
Allied Market Research. "Convenience Food / Frozen Food."
Market Research. "Global Convenience Food Market 2021-28." June 2021.
Marlen. "How Automation Benefits the Food Industry."
Tyco Integrated Security. Food Safety Magazine. "Recall: The Food Industry's Biggest Threat to Profitability." 11 October, 2012.
S. Gunasekaran. Food Engineering. "Automation of Food Processing."
General Food Technology Articles. "Major Brands of Convenience and Specialty Foods." 11 February, 2013.
Statista. "Convenience Foods."
ICPE. "Packaging of Ready-to-Eat / Ready-to-Cook Food."
Vahrevah. "Advantages and Disadvantages of Convenience Foods."
Data Intelligence. "Convenience Food Market Growth Factor and Industry Outlook Update, 2022-2029." 17 March, 2022.
Data Bridge. "Global Convenience and Frozen Food Market – Industry Trends and Forecast to 2029." December 2021.
Lana Billings-Smith. SFGate. "What is a Ready to Eat Food?" 27 December, 2018.
Kelly. Madgetech. "What's Spoiling your Food? Find out the Top 3 Factors." 15 July, 2019.
Josh Patrick. Livestrong. "What Causes Food to Spoil & What Prevents Food from Spoiling."
Lynn Kuntz. Natural Products Insider. "In the Can: A Look at Retorting." 1 August, 1994.
Amy Brown. MesaLabs. "Retort Sterlization in Food Packaging." 22 September, 2014.
Floeter India. "About Retort Packaging." 2019.
Karen Lemon. Camblab. "How do I Measure the pH of Brine Used in Canned Food Testing."
Foodservice Equipment & Supplies. "An Overview of Steam Jacketed Kettles." 2020.
Robert W. van den Berg et al. Ultra High Pressure Treatment of Foods. "High Pressure Equipment Designs for Food Processing Applications." 2001.