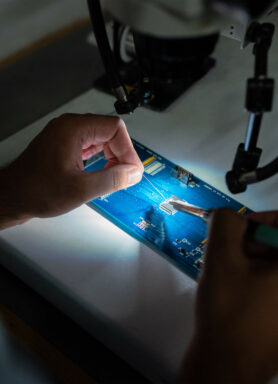 HIRING
Controls Engineer E4
Cybernetik is looking for engineers with a passion for the design of control systems that lend machines the capacity to operate intelligently. Travel in India or abroad is a part of this job and you should be ready to undertake site erection and commissioning. With good understanding of electrical equipment, third party electric devices, and electrical drawings, you must be able to prepare flow charts and programming ladders, handle network communications, and troubleshoot when necessary.

Job Title: Controls Engineer
Department / Group: Machine Intelligence
Qualification: B.E. / B. Tech.: Electrical / Electronic / Instrumentation / E&TC
Experience: 1 - 5 Years
Age: 23 - 30 Years
Communication Skill: Excellent Written & Verbal: English & Hindi
Specific Industry Experience: Engineering
Computer Skills: Microsoft Office, ERP, PLC Software, HMI Software, SCADA Software


Personal Competencies:
Leadership quality
Communication & interpersonal skills
Self-motivated with result driven approach
Problem analysis & decision making
Ability to work in a multi-cultural environment

Technical Competencies:
Cause finding & problem solving
Awareness of Quality, Health & Safety Environment Practices
Ability to identify the most appropriate solution in the view of the circumstances and issues
Position Type: Full Time
Job Category: Technical
Location of Job Posting: Unit-1, Pune
Job Description: Role and Responsibilities:
Knowledge of electrical components.
Must prepare Programming ladder / Structure / Flow Chart / Interlock Sheet / SCADA HMI Structure.
Knowledge of PLC / HMI / SCADA / VFD development, programing, troubleshooting.
Knowledge of Network communication Ethernet / DeviceNet / Profibus / Profinet / Modbus.
Knowledge of third party communication devices.
Able to read Electrical Drawings and undertake Control Panel troubleshooting.
Able to perform basic electrical wiring at site if required.
Able to handle project individually.
Responsible for Site Erection and Commissioning and ready to travel in India and aboard.
APPLY